---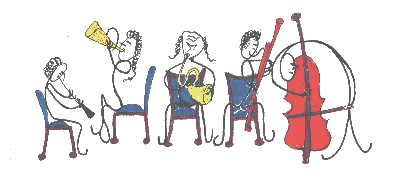 OBOE, BASSOON, ALTO SAXOPHONE,
FLUGEL HORN, HORN,
CONTRABASS
SHEET MUSIC
Donald Martino has written infrequently for the instruments on this sheet music page. Oboe, Bassoon, Flugel Horn, Horn, and Contrabass might seem to be the Instrumental Leftovers. But remember, a good stew is best the second day! We hope you're hungry!

CINQUE FRAMMENT I for Oboe and Contrabass: "the finely structured tension was attention-riveting." - New York Times

CONCERTO FOR WIND QUINTET: "a vast complexity. Its sounds are completely dissimilar from those of every other wind quintet I know. That, I'm inclined to regard as a virtue." - Boston Globe

SERENATA CONCERTANTE adds Flugel horn and French horn to the Notturno ensemble. It has had just one performance so far. The performers loved it!

PICCOLO STUDIO for Eb Alto Saxophone Solo: "terse, spiky, purposeful"- Boston Globe
All Sheet Music Editions of Donald Martino's Oboe, Bassoon, Horn and Contrabass Music
Previously Published by The E.C. Schirmer Music Co./Ione Press
Are Now Published by Dantalian, Inc.
CINQUE FRAMMENTI

(1961) Oboe and String Bass (5 minutes)

McG&M108

Score-Part, ea. part

$8.00

PICCOLO STUDIOC

(1999) Eb Alto Saxophone (over 3 minutes)

For the Concerto see the Orchestra Page.

DSE529
$5.00

(1964, Fromm Foundation-Berkshire Music Center commission) Fl, Cl, Hn, Ob, Bn (16 minutes)

DSE521

DSE521a-e

Study Score

Cued Parts, set

$45.00

$60.00

SERENATA CONCERTANTEP

(1999, Koussevitzky Foundation Commission for Anthony Korf and the Parnassus Ensemble) Octet for Flutes, Clarinets, Flugel Horn and Cornet, French Horn, Percussion, Piano, Violin, Violoncello (26 minutes)

DSE517*

DSE517a

Conductor's Score

Study Score

Cued Parts

$60.00

$20.00

For Rent
* = Not printed in quantity; allow one month for delivery. § = Prepublication item, inquire as to availability; C = Commercial Recording (Number of C's indicates number of recordings). P = Perusal Tape. M = Manuscript. ß = Repertory Selection "Director's Guide to Festival and Contest Music" (The Instumentalist). DSE = Dantalian; McG&M = McGinnis & Marx.
---
FREE ILLUSTRATED BROCHURES ON REQUEST: VOICE, CHORUS, WIND, STRING, PIANO, LARGE ENSEMBLE, BACH CHORALES, STRING-O-GRAPH
Our BROWSE-AT-HOME BROCHURES offer you more than just a few themes. They are a veritable "Reader's Digest" of each work. Please contact us via phone, mail, fax or email, or use the online order form to receive any of our useful brochures. Click here for a sample of six of the sixteen excerpts that illustrate one composition in our wind brochure.

Home Catalogue News To Order Next Page
Dantalian, Inc., 11 Pembroke St., Newton, MA 02458 USA
Phone/Fax: 617-244-7230
Email: dantinfo@dantalian.com